by Nebula Haze – updated 5/16/18 (added a nice-but-cheap jeweler's loupe for measuring trichomes)
Table of Contents
Intro: When to Harvest Cannabis (for the highest potency)
1st Harvest Method: Look at Buds
2nd Harvest Method: Look at Buds Under a Magnifier (Trichome Method)
Summary: Tips & Hints
---
This harvest tutorial is part of our "how to harvest cannabis" series:
Flushing > Harvest > Trimming > Drying & Curing​
Intro: When to Harvest Cannabis (for highest potency)
When should we harvest the buds from a cannabis plant? That is the eternal question… I'm sure the answer we're all thinking is "Not soon enough!"
(How far are your plants in the flowering stage? Check out the flowering stage timeline!)
Unfortunately for us impatient growers, harvesting at the right time is just as important as how you grow the plant. Harvest too soon and you lose potency and cannabis yields; too late and you can end up making a batch of sleep medicine.
You only need 3 things to determine the best marijuana harvest time:
The knowledge of when to harvest – You get that today!
Eyes for visual inspection – You've probably had these for a while!
A magnifying tool – Makes the glittery, resin-filled trichomes on your buds easier to see; although not 100% necessary, this lets you time your harvest perfectly to get the exact effects you're looking for
When it comes to magnifying tools for growing, there are a few options:
Jeweler's Loupe – This is the cheapest and most low tech way to get the job done. Unfortunately, it is still difficult to get the best insight into how your buds are doing unless you have really great eyes, though the one I linked to is the best that I've tried. Will definitely get the job done in a pinch!
Digital Microscope – A digital microscope is one of the best tools to determine the right harvest time. A digital microscope costs a bit more than a loupe and many models need a connecting laptop, but they will get you face-to-face with your trichomes and allow you to take video to re-examine afterward or get a second opinion. You'll be almost uncomfortably close to your trichomes!
There are two main techniques growers use to identify the right time to harvest marijuana plants.
Note: We recommend that you flush your cannabis plants in the last week or two leading up to harvest time if growing in soil or coco, and for at least a few days in hydro. Click the following link to get more info on flushing before harvest: https://www.growweedeasy.com/flushing
First, we'll show you how to identify harvest time by checking the pistils (the 'hairs' on your buds). The pistil method isn't nearly as accurate as checking the trichomes (the 'glitter' on your buds), but it's definitely a good place to start since you can just look at the buds and get a general idea.
The following marijuana harvest pictures will guide you, so you know when to harvest your marijuana buds using 'The Pistil Method'.
See More Pictures of Buds That Are Ready to Harvest!
1st Method to Identify Harvest Time:
Pistil Method
Not Ready for Harvest Pictures
The vast majority of pistils (hairs) are still white and sticking out straight.
This is definitely too early to harvest, and these plants have many weeks to go!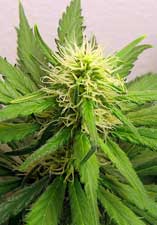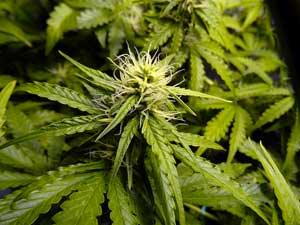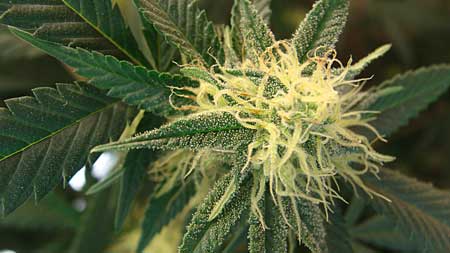 Still Not Ready for Harvest Pictures

We're waiting for at least half of the white hairs to darken and curl in. Some of the pistils are starting to turn color, but there are far less than 50% curled/darkened pistils. These buds still have several weeks to go before they'll reach their highest levels of THC. The good news is your buds will  get bigger and more dense in that time!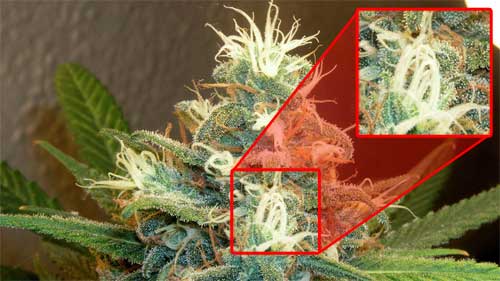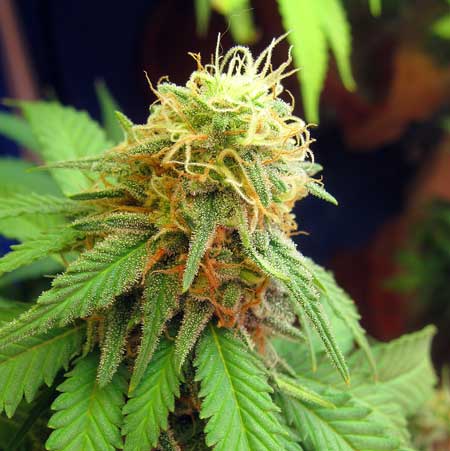 Does it feel like you've been waiting forever? Learn what causes marijuana to take a long time before being ready to harvest.
Ready for Harvest Pictures
Harvest when 60-70% of hairs have darkened for highest levels of THC.
Harvest when 70-90% of hairs have darkened for a more calming,
anti-anxiety effect as some THC turns to the more relaxing CBN.
With some strains, you may see a bunch of new pistils appear right when you think you're getting close. This is normal, but it happens more than 3 times you've eventually got to just make the decision and chop. Learn how to speed up the time to harvest. You may also be interested in what's causing buds to take forever to mature?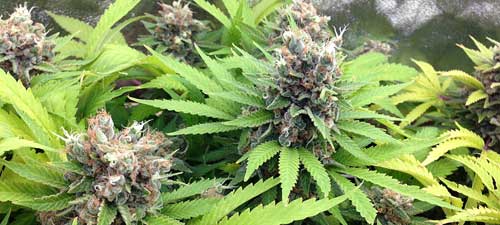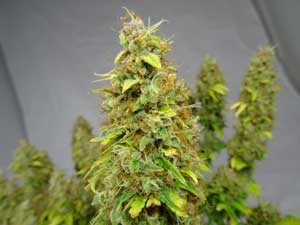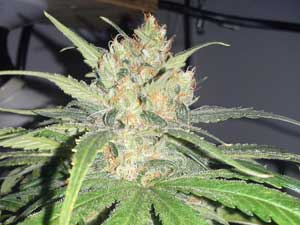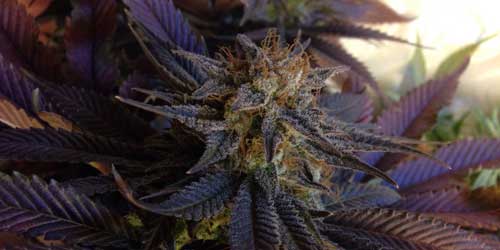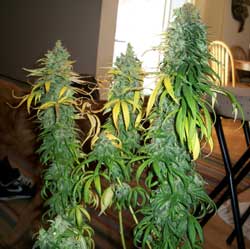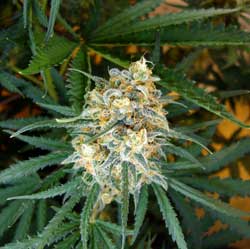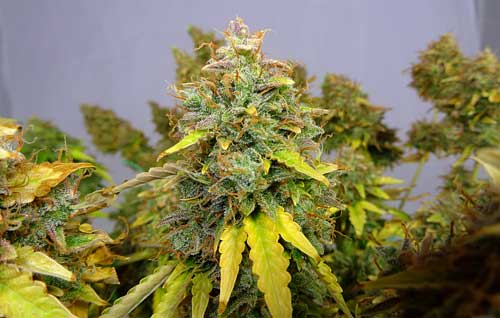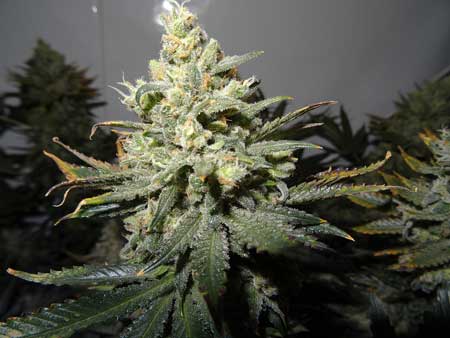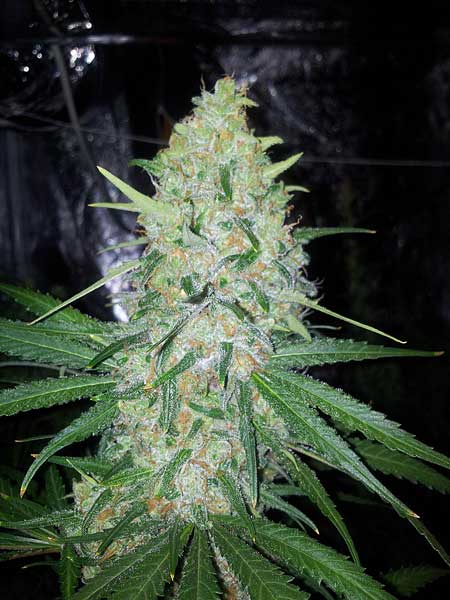 ---
See More Pictures of Ready-to-Harvest Buds!
---
With some strains, it is much harder to tell when the time is right. Different strains can look different ways at harvest. For example, some strains can keep most of their pistils white even when they're ready to be harvested.
You can get some good information by talking to someone who has grown your strain before, such as the breeder. The breeder or growers who've grown your strain before can often provide extra insight into what to look for at harvest. You can also search online for pictures of what your strain should look like when it's fully ripened.
Next, we're going to go over the 2nd (and MUCH more accurate) method of checking your cannabis plants to see if they're harvest-ready…
2nd Method to Identify Harvest Time: Trichome Method
(how to harvest cannabis using the accurate method)
This harvest method tends to be more precise than looking at the pistils of your cannabis plant.
Look at trichomes under a magnifier to harvest cannabis buds with the right THC levels
With this method, you look at the glandular stalked trichomes on the buds under a magnifying glass. Trichomes are the the mushroom-looking growths on cannabis that are responsible for it being so popular!
In some places these trichomes are called resin glands. These trichromes are the 'crystals', or 'frosty stuff' you see accumulating on your bud/leaves. They're also what makes weed so sticky.
The trichomes you're trying to see look like little mushrooms. You may also see tiny, clear hair-like trichomes without the mushroom head but these don't affect potency so you can ignore them. You are interested in the trichomes that have a little ball on top. This is where a lot of the THC and other good stuff in cannabis is located. Since these trichomes are what contribute the most to bud potency, being able to tell when they've reached their highest levels of THC will help you be able to choose the exact right time to harvest your marijuana.
Cannabis trichomes are difficult to see with the naked eye, so you'll need a jeweler's loupe or other way to magnify the image in order to use the "trichome method" for determining harvest time. Conversely, some cameras can take 'macro' shots that are clear enough to see what stage the trichomes are in but they can be pricey…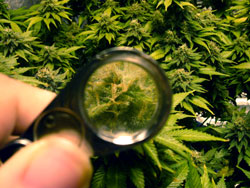 Jeweler's loupes are relatively cheap to buy online, or at a hardware or jewelry store.
If you put the loupe right up to your buds, you'll get a better view of the trichomes, letting you better determine their color and shape.
Click the picture to the left for a close-up to see what that looks like.
Although a jeweler's loupe can make trichomes appear bigger, sometimes it's not big enough. I know I end up squinting a lot when I'm trying to use one, but they are a heck of a lot better than nothing!
Get a Jeweler's Loupe on Amazon.com
Although it's cheap, this is one of the best rated jeweler's loupes in the under $20 price range. However, please note that although it says you get 40x magnification, you don't get nearly as much as that. However, I've found that with just about every jeweler's loupe; they advertise more magnification than what you get. That being said, for a lot of growers this will get the job done!
A digital microscope typically takes video and produce bigger and more clear pictures of trichomes than a jeweler's loupe or other small magnifiers. Not only can you see the trichomes better, but you can record video of them to look over after the fact. These are still pretty cheap, costing about $50, and they will give you better results than most other methods for determining harvest.
This is an example of a digital microscope that will let you more closely see the trichomes. You will need to hook it up to a laptop or computer for it to work. It's nice to be able to see the trichomes on a screen and take pictures or video to examine afterwards. It can be difficult to really evaluate the trichomes when you're thinking about getting everything in focus.
Example of a digital microscope
Here's a guide breaking down when to harvest marijuana buds based on color of trichomes.
(note: the trichomes of some strains turn purple or pink instead of amber/gold/yellow)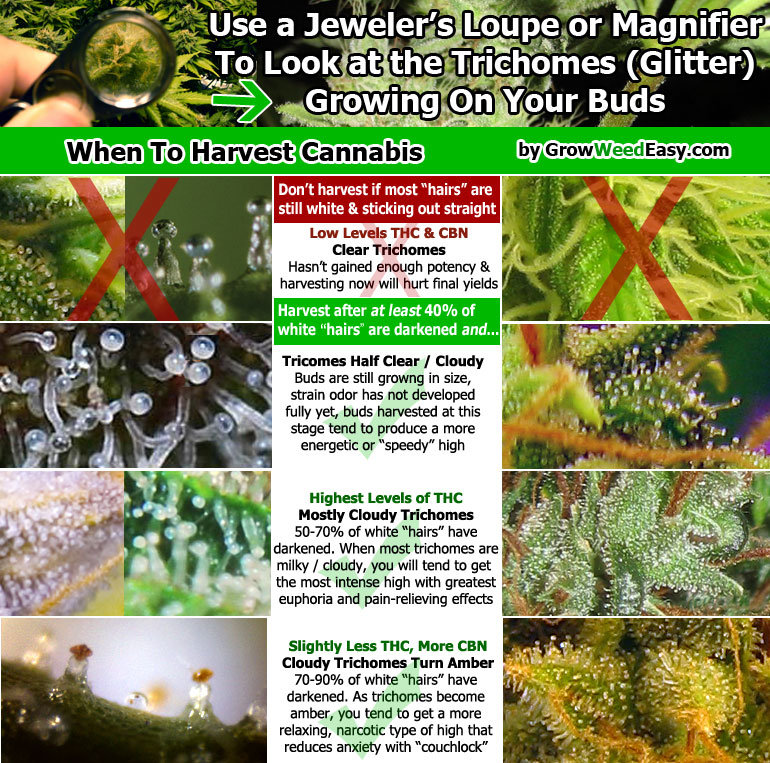 Click to open picture of "When to Harvest Your Marijuana" guide
Clear trichomes look kind of like glass
Cloudy trichomes look more like plastic to me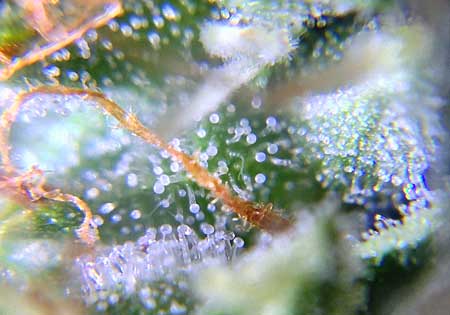 I still can't tell the difference between clear and cloudy trichomes!!!
It can be hard to tell the difference between clear and cloudy trichomes, especially if you don't see both types of trichomes at the same time! This is completely normal, and it takes a little experience before this part becomes totally easy.
However, when in doubt, consult with the pictures of buds above. If you combine both methods you'll get the best results! Although looking at your buds isn't the most precise way to know when to harvest, it does give you a really good idea. Try to take everything together. If your buds just have white pistils sticking out, you know for sure that it's no where close to ready, so you also know that the trichomes on the buds aren't all cloudy yet. It's only when your buds are getting close to looking harvest-ready that trichomes are going to have something to tell you!
The trichomes in this picture are still mostly clear, but that may be difficult to know immediately if you haven't really looked at trichomes before! However, I don't even really need to look at the trichomes in this picture to know these buds aren't ready yet. There are other signs it's not ready. I can clearly see several white pistils sticking straight out in the photo. The only two pistils that have darkened haven't even curled in yet.
Trichomes are mostly clear so this bud is not ready for harvest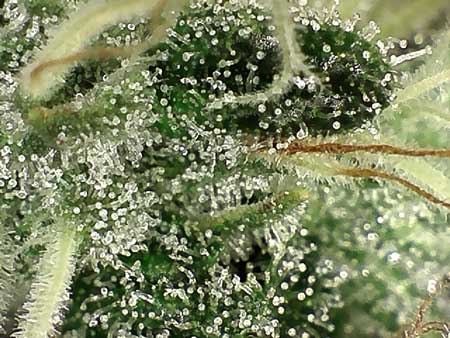 But even without looking the trichomes, the the fact that nearly all the pistils are sticking straight out has already shown that this bud isn't ready. If most pistils aren't curling in, it means you still have several weeks to go! Here's that bud from further away – it's far from ready!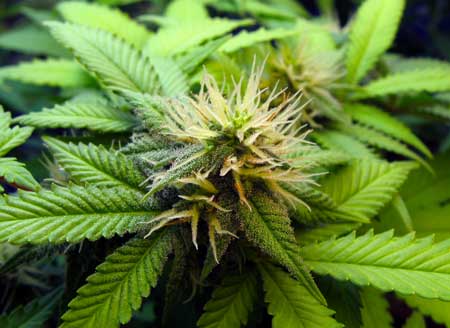 When you're not sure, try to use a combination of looking at the buds and looking at the trichomes!
Many of the cannabinoids we enjoy most are produced within these glandular stalked trichomes. This includes THC, CBD, and CBN amongst others.
Learn everything you could possibly want to know about cannabinoid levels in your marijuana, and what you need to do as a grower to control the potency of the buds you grow.
Summary: Tips & Hints
Here are some general rules about harvesting marijuana based on trichomes and the color of the hairs / pistils. If you follow these rules, you'll know how to harvest weed perfectly every time!
If white "hairs" are almost all sticking straight out and trichomes are all still translucent (clear) then your plant is too young and not ready for harvest. Harvesting now will result in low yield and non-potent harvests.
The beginning of the harvest window opens when your plant has mostly stopped growing new white "hairs" or pistils and at least 40% of the white hairs have darkened and curled in.
Highest level of THC is when many/most of the trichomes have turned milky white / cloudy (when viewed under a magnifier). Trichomes that are milky have the highest levels of THC are "ready to harvest" and contribute to more euphoric and psychoactive effects. At this point 50-70% of the pistils have darkened.
Some Sativa & Haze strains have trichomes that never really turn amber. If they've turned mostly white and don't seem to be progressing further, it may be time to harvest!
The most "couchlock" or sedating effect happens towards the end of the pot harvest window, when the trichomes have become a darker color (usually amber/gold). The best results from amber trichomes come from indica strains. The amber/yellow trichomes contribute to a 'body high'. Some of the THC has converted into less psychoactive CBN, which has calming and anti-anxiety effects. With some strains, the trichomes will even turn red or purple! I like to harvest around when 20% have turned amber. At this point 70-90% of the pistils have darkened. Harvesting later will increase the sedating effects, but may also start reducing the psychoactive effects.
When trichomes start looking grey or withered, the harvest window has passed, and buds will make you sleepy without many psychoactive effects. Usually it takes several weeks (4 or more) from the beginning of the harvest window for this to happen. It's much easier to harvest too early than too late!
Want more of an 'in-your-head' effect? Harvest your buds earlier, when only 40% of hairs have darkened and curled in and more than half of the trichomes are part clear/ part milky or mostly cloudy/milky.
For the "strongest" marijuana buds with the most psychoactive effects, and the highest levels of THC, harvest when almost all trichomes are cloudy/milky.
For more relaxing, anti-anxiety buds, wait until at least some of the milky / cloudy trichomes have darkened to amber. More amber = more relaxing, though the effects may be somewhat less psychoactive. Remember, curing your buds properly for at least 2 weeks to a month will also give them more of an anti-anxiety effect.
When growing your own marijuana plants, you can certainly sample buds off your plant at different stages to get an idea for what your preferences are. It's okay to cut off pieces at a time!
The hardest part of growing cannabis for many new growers is waiting for the right time to harvest.
There is a strong tendency for new growers to harvest the plant early due to excitement.
Unfortunately, this often results in low yields and lower-potency buds.
If you are feeling excited about harvesting your marijuana plant, pull buds off the plant that look the most done and dry them and check the potency for yourself.
Harvesting the buds in stages (starting off slowly with small batches) can really help abate the excitement.
When in doubt, listen to your gut. Using both methods together will help you pick the best time to harvest, but only YOU know how you want your buds to turn out. This means that even the best methods are just general guidelines. But hopefully, you're now closer to getting your bud the way you want it.
Happy growing!
This harvest tutorial is part of our "how to harvest cannabis" series:
Flushing > Harvest > Trimming > Drying & Curing​
---
Learn how to cure buds without guesswork!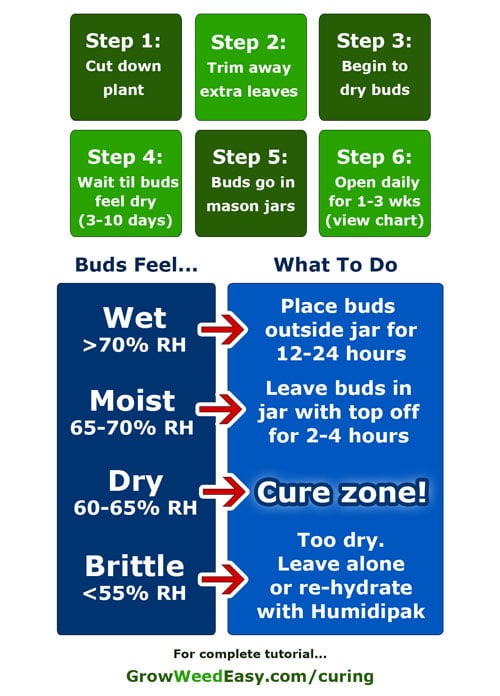 ---
Jump to…
Flushing For Better Buds 
How To Get To Harvest As Fast As Possible
How Do THC, CBN & CBD Relate to Marijuana Potency?
Better Taste, Better Smell
How to Grow Cannabis in 10 Steps
---
Cat and Dogs May Nibble on Your Plants!!!
Some cats and dogs love eating cannabis plants! They may lick or chew your plants around the leaves or buds, often at the absolute worst time. Many clones and small plants have been lost to these surprising cannabis pests ???? Once your pet gets a taste, you may have a monster on your hands. So if you have pets, make sure you keep them far away from your marijuana plants!
Some Cats & Dogs Love Cannabis – Protect Your Plants!