In the great wide world of contemporary cannabis, we're certainly not smoking reggie anymore. While the jury is out on how accurate the inspection of cannabis really is when it comes to THC percentage, there is no doubt that today's herb is more potent and more craft than it has ever been in the past. Classics and new-school blends now co-exist in harmony, setting the stage for some truly earth-shatteringly good marijuana strains. Over the past five years, we have been some impressive new kids on the block. Many of these new creations have quickly earned their place among the strongest strains on the planet. To keep you updated on the very best strains in the world, this master list highlights strains and products that are truly exceptional. 
The strongest strains in the world
Back in the 1970s, the average cannabis plant clocked in at a little over one percent THC. Nowadays? The hottest connoisseur strains can feature thirty times that much. Not only is cannabis stronger than it has ever been in history, but the friendly herb now comes in a variety of colors, flavors, and can produce a surprising bouquet of experiential effects. In an effort to highlight some top-notch flowers, here are some of the strongest weed strains in the world.
Nova OG
Another Manali West treat, Pink Starburst has tested as high 32.49 percent THC. This hybrid is a complicated cross between DJ Short's Blueberry, Headband (Underdog OG), and AJ Sour Diesel (BX3). The strain was then backcrossed on itself to produce Pink Starburst. Well that's some skilled breeding, right? The result is a strain with indica growth patterns but more of an uplifting sativa experience, a true craft flower.
Lemon Head
This is a blend that features Faceoff OG. Named after the 1997 Nicholas Cage and John Travolta classic, Faceoff  (where John Travolta literally steals Cage's face). It has also been said that the high that's experienced from smoking this strain can be compared to actually "losing your face" because of the tingling sensations and dizzying head high. Infusing this with a Lemon lineage of cannabis is the perfect way to breath new life into a strain from the 90's reserved for longtime smokers. The Lemon G of the combination adds a zesty energy to the high that might normally leave you stuck. Although not a pure Sativa the combination of the two parents offers a good balance for pain relief or just general relaxation. Lemon Head has levels of THC that are approximately 22 percent.
NYC Diesel
One of the original Diesel strains, this Sativa dominant strain is the hybrid of Afghani and Mexican original strains. The result is a strain that delivers the perfect body elevation for a deep and consuming state of tranquility. Similar to Sour Diesel, smoking this will offer a chattier high and will help relieve symptoms of social anxiety. NYC Diesel has also been known as a potential aphrodisiac. Aromas are pungent, but instead of skunkiness, anticipate strong lime and fruit aromas. It weighs in at 22 percent THC.
Cherry Pie
A mix up of that Grandaddy Purple and Durban Poison this strain tastes exactly how you would expect it too. With hints of fruity aromas and berry flavors, it's got a calming quality when smoked. Cherry Pie makes for a giggly high and is perfect for the movies or brunch. Its fruity components will compliment the fun vibes you will get since the high allows you to still be sociable. This strain is perfect for fueling the imagination too. Its THC levels are approximately 21.8 percent.
Chemdawg
Chemdawg is a popular and pungent strain that has quickly become a staple for many. Measuring in at a hefty 28.2 percent THC, it's a hybrid of Sour Diesel and OG Kush and undeniably one of the strongest strains on the planet. Beware of the stinkiness of this strain– like most Diesels, it's easy to catch a whiff of from far away. This strain delivers a full body high so prepare to feel all the feels after smoking this.
Irish Cream
This Indica is raised by Mighty Irish Seeds crossbreeding Real McCoy with Cookies and Cream. It stems from a blend of Girl Scout Cookies. One can expect the same full-body mellow and cerebral high. With an indica-heavy smoothness, Irish Cream will have you high af. Expect a sticky melty feeling combined with a sweet and earthy flavor. But like most real McCoys it will leave you carefree too.  This strain has THC levels of approximately 27.1 percent.
Rude Boi
Rude Boi isn't just for Rihanna anymore. Coming in strong at 26.9 percent THC this blend hails from the South East regions of Atlanta. This strain is named after it's the original grower "Rude Boi." This strain includes components of OG Kush, Irene OG, and Faceoff OG to offer the perfect trifecta of sophisticated smoking. Smoking this potent blend will trigger nostalgia of dankness and memories of all things "old-school."
White Tahoe Cookies
White Tahoe Cookies is the one to watch in 2018. Originally grown by @Kush4Breakfast and distributed through Archive Seed Bank. This strain is a blend of The White, Tahoe OG and Girl Scout Cookies. Perfect for sedating a racing anxious mind giving off a citrus flavor offset by a skunkier taste. Expect to see this nug up and down the West Coast. With THC levels coming in at 27.15 percent, it's safe to say this is one of the strongest strains on the planet.
Blue Magoo
LA Photographer Bentley Rolling described this beauty as a heavenly blend between the strains DJ Short Blueberry and Major League Bud. The nug photographed was grown by Happy Cabbage Farms.  This potent herb has aromatic scents of blueberry and other fruity characteristics and being a hybrid smoking it allows the best of both worlds with an energizing sativa feel to enjoy the mellowness of this indica dominant flower. 22 percent THC.
Snoop's Dream
Snoop's Dream is named after the Godfather of Cannabis, Snoop Dogg so you know it's legit. Not to mention being bred with a personal favorite, Blue Dream, and Master Kush. This indica-dominant hybrid lives up to all its high expectations. Covered in pretty orange hairs the bud has a woody aftertaste and a heady high. But this is not for the beginner smoker with some variations of this strain testing THC as high as 25 percent.
UK Cheese
When looking for which weed has the most THC, UK Cheese won't necessarily win, but it is worth considering. UK Cheese is a classic, potent hybrid strain. Famous for its pungent cheese aroma, many cite "Cheese" as the strongest weed they've ever smoked. When looking for which weed has the most THC, UK Cheese with its average of 20 percent THC, doesn't quite stack up to the other heavy hitters we've rounded up. However, this classic strain with its euphoric effects, mental stimulation, and full body high, rightfully earned its spot on this list.
LA Confidential
Sometimes you not only want to know which weed has the most THC, but which weed will give you the exact effect you're looking for. If you have difficulty sleeping, LA Confidential is a safe bet. LA Confidential is becoming a legendary strain in southern California for good reason. This indica-dominant hybrid has a sweet pine taste with a classic skunk aroma, but it's more famous for the appearance of its nugs. These babies are colorful and covered in thick, frosty trichomes. Plus, the effect is strong; it's super sedative and great for unwinding or getting ready for bed.
Ghost OG
Ghost OG is a hybrid strain known for its epically high levels of THC. Consistently testing around 30 percent THC, if you are looking for which weed has the most THC, consider your question answered. An indica-dominant hybrid, Ghost OG is known for its calming effects, invoking a heavy body high that can alleviate pain, depression, and stress. Plus, this pungent and citrusy smelling bud also provides a euphoric cerebral effect, making it the best of both worlds.
PsychOG
PsychOG is an enigmatic hybrid with an intriguing reputation. This plant supposedly produces up to 24 percent THC, but the psychoactive potential of different samples will vary. A cross between Fire OG and Headband, this plant comes from a world-famous lineage. Leaning indica-dominant, expect PsychOG to deliver a relaxed and tranquil cannabis experience. However, within minutes after the first inhalation, don't be surprised if you find your mind overtaken by a dreamy cerebral quality.
Girl Scout Cookies Thin Mints
Girl Scout Cookies Thin Mints is a legendary phenotype of the popular Girl Scout Cookies Strain. While this plant clocks in at around 24 percent THC, it's the unique flavor and aroma that are often the most impressive. Upon inhale, a cool herbal quality teases the tongue. This spiciness is accompanied by an oddly pleasurable shortbread flavor, making this strain an aptly named bud. Considered a moderate hybrid, this plant produces strong effects that will not leave you stuck to the couch. However, the more Thin Mints GSC you consume, the more you may find yourself yawning and ready for a nap.
Blue Cookies
Let's be honest, Girl Scout Cookies (GSC) has mothered some truly high-performing cannabis strains. Blue Cookies is another impressive offspring to add to the collection. This indica-dominant hybrid is a cross between the famous GSC and Blueberry. Blueberry is a delicious fruit-flavored plant that donated some of its genetics to the infamous Blue Dream. Now, however, its Blue Cookies that deserves the limelight. This fanciful flower can produce up to 25 percent THC. With a warm berry-citrus flavor and a soothing relaxing high, there's a lot to love about this mouth-watering botanical.
The strongest hybrid strains in the world
While scrumptious landrace strains were popular in the hippie era, today's cannabis environment is full of craft hybrids. Contemporary strains are often fast-growing, high-yielding, fragrant, and are chock-full of psychoactive THC. In fact, strains are now producing upwards of 25 to 35 percent of the compound. If you're interested in consuming or growing some truly potent cannabis, here's a list of the strongest hybrids in the world right now.
Chiquita Banana
Chiquita Banana has won the title of one of the strongest strains in the world. In some tests, this strain reached over 33 percent THC, making it one of the strongest strains in the world. Those who manufacture clear concentrates or distillates will love this strain, as it produces such a concentrated amount of THC naturally. Chiquita Banana is a cross between the famous OG Kush and Banana, and you'll be finding yourself soaring through a dreamy bliss after just a taste or two of this strain. This strain has been named a High Times strongest two years running, in 2015 and in 2016. Featuring a sweet and tropical taste, you can't go wrong with a little Banana. Vaping this from the DaVinci IQ would seriously maximize its flavors like nothing before.
Tutankhamun (King Tut)
King Tut, also known as Tutankhamon, is a sativa-dominant hybrid with THC levels that can reach up to 30 percent. This strain is thought to be an offspring from the legendary AK-47, a potent sativa that produces a fast-acting and clear-headed cerebral high. This is a great strain for daytime use, promoting energy, vigor, and focus. However, those sensitive to sativas or large amounts of THC may experience some anxiety with this strain. Classified as a sativa, this flower is a bit unique among other high-producing buds. While all of the most potent strains in the world are hybrids, most err toward the middle or indica side of the spectrum.
The OG #18
Released by DNA Genetics under the Reserva Privada label, OG #18 is a phenotype of OG Kush. OG #18 tested with up to 27 percent THC. This strain has won several awards, including Best Hydro at Spannabis 2011. The flower perhaps leans a little to the indica-side of OG Kush, providing consumers with a positive, upbeat mood and a substantial body relaxation. The OG #18 is certainly potent, but it is not likely to leave you stuck on the couch. Rather, save this bud for an easy afternoon when you can sit back, unwind, and de-stress.
Blissful Wizard
Blissful Wizard was bred by the Captain's Connection tests between 25 and 34 percent THC. A cross between the famous Girl Scout Cookies and Captain's Cookies, this bud produces a soaring euphoric high that will put you in a good mood for a few hours. The strain has a tendency to stimulate appetite, so having some snacks on hand before partaking is recommended. An award-winning flower, it took home Best Non-Solvent Has at the SoCal Medical Cannabis Cup in 2015 and it remains one of the highest testing strains around right now. The experience from this strain is happy and comfortable overall, interspersed with extremely pleasurable sensations of bliss.
Gorilla Glue #4
Gorilla Glue #4 is one of the most popular strains in the U.S. right now. A potent and high-yielding hybrid, this bud produces a heavy yet comfortable experience that knocks away pain. In the past, this strain has reached the 30 percent THC mark. Yet, the standard bud falls between the 24 and 28 percent range. Gorilla Glue produces a very strong hybrid experience, perhaps leaning a little toward the body-heavy side. However, the herb also provides some intensely euphoric effects. All in all, anyone in need of a powerful yet blissful experience will love Gorilla Glue.
Bruce Banner #3
Bruce Banner #3 is a difficult find and the demand for this bud is increasing. Named after the Incredible Hulk's alter ego, Bruce Banner has stayed on the strongest strains list for the past couple of years. This bud can reach up to 30 percent THC, making it one heavy-handed hybrid. One of the strongest strains in the world, Bruce Banner is a great medical cannabis bud and can be extremely helpful for those with chronic pain, including neuropathic pain and pain after injury. This flower is also known to inspire a bout of creativity, that is often appreciated by those who struggle with focus and attentiveness. Considered slightly sativa dominant, expect to be floating on waves of blissful euphoria after a few tastes of this potent herb.
Paired with the Mighty Vaporizer for pure and clean vapor, Bruce Branner provides a relaxed body experience.
The White
In the past, The White has been difficult to find. However, as word about this amazing hybrid spreads around, this strain is growing in popularity. The genetics and original breeder of this strain are quite mysterious, but it is thought to be a phenotype of a Kush strain, Triangle. Triangle is a three-way cross between OG Kush, Purple Kush, and Master Kush. While some reports have put The White at up to 29 percent THC, it features an average of about 24 to 25 percent. For experienced consumers, this delicate flower produces a manageable daytime high. Novice consumers may find this strain a little on the sedative or hazy side.
White Fire OG (Wifi OG)
If you need something strong during the day, White Fire OG is an excellent choice.  An offspring of The White and Fire OG, White Fire OG also makes the list of most potent strains this year. Sometimes called Wifi OG, the strain is covered with a thick coating of white crystal trichomes and features a contented and sociable high. The THC levels in this strain range from 25 to 30 percent, earning this bud a place as one of the world's strongest. Many consumers report that the plant has a lung-expansive effect and some pleasant sensations of bodily heaviness.
Girl Scout Cookies
Over the past few years, Girl Scout Cookies has taken the U.S. by storm. This delightful hybrid is now one of the most popular strains along the West Coast and is often used as a base for uber-potent Kurupt's Moonrocks. A cross of Durban Poison and OG Kush, this psychoactive plant sets a new standard for contemporary hybrids, featuring up to 28 percent THC. Uplifting and euphoric, Girl Scout Cookies provides a soaring cerebral experience and a hefty amount of full-body relaxation. However, in large doses, this strain can cause sedation. When you smoke a little too much GSC,  you might find it difficult to get off of the couch. For experienced consumers, this strain makes a great daytime treat.
The strongest indica strains on earth
Kush fans are in for a real treat with this list. Indica strains are naturally high resin producers, meaning that you can count on plenty of crystal-coated buds from these strains. Sedative, dreamy, and calming, these psychoactive flowers can ease away stress while delivering some seriously euphoric highs. Medical consumers may appreciate the potent and narcotic-like pain relief provided by these intoxicating herbs. Without further ado, here are the 10 strongest indica strains on earth right now.
Death Star
Death Star is a strong indica-dominant hybrid strain with an even stronger smell. It has a skunky, diesel aroma that's hard to hide, but when smoked is sweet, earthy, and delicious. It provides a powerful high that's super relaxing, which is great for smoking after work, before bed, or for relieving pain and anxiety. A cross between Sensi Star and Sour Diesel, Death Star is one sedative hybrid. Featuring between 20 and 26 percent THC, Death Star will blast stress and worries to another galaxy. Highly euphoric, this strain is known to promote some laughter and a curate positive sense of well-being. However, the plant is also about 80 percent indica. That means that most can expect to feel drowsy, relaxed, and maybe even a little unmotivated after several tastes of this psychoactive plant.
Strawberry Banana
Strawberry Banana is a potent indica-dominant hybrid from DNA Genetics. This drowsy herb produces more of a euphoric feeling than other strains on this list thanks to split indica/sativa lineage. A cross between Banana Kush and Bubble Gum, Strawberry Banana is an award-winning strain loaded with THC. On average, this fruity bud produces between 22 and 26 percent of the psychoactive. Unlike other strains on this list, Strawberry Banana is not completely sedative. This powerful bud can encourage a deep relaxation and jolly mental high. Some can get away with consuming Strawberry Banana during the day, however, it is generally considered an evening strain. Strawberry Banana is often used for creative endeavors as well as for gastrointestinal issues like nausea and Crohn's Disease.
Ice Wreck
Ice Wreck is technically a hybrid, but this potent strain has some seriously drowsy effects. A cross between Ice and Trainwreck (an equally noteworthy sativa strain), Ice Wreck provides an almost psychedelic experience. Testing as high as 27.7 percent THC, this strain offers the cerebral stimulation of a sativa with the heavy-hitting relaxation of an indica. Many find this strain to be helpful in pain management and insomnia. Drowsy and relaxed, this strain is known to promote a tingly body buzz and a bad case of the munchies.
G-13
G-13 is one of the most mythic indicas on the market. As the story goes, G-13 is an escapee from a breeding experiment funded by the U.S. government. While there is no saying whether or not this story is true, G-13 is truly a five-star indica hybrid. One of the most potent strains on the shelf, G-13 features between 20 to 24 percent THC. Recommending for experienced consumers, this strain provides a powerful, rolling euphoric high that can truly warp your senses of space and time. Encouraging deep body relaxation and heavy eyelids, it's easy to melt into a puddle of bliss after just a small amount of G-13.
Kosher Kush
Kosher Kush is a Californian strain with unknown indica heritage. Bred by DNA Genetics, this bud features a robust herbal aroma with plenty of lemon and pine. Containing between 20 and 25 percent THC on average, Kosher Kush is one drowsy bud that indica fans are sure to enjoy. This strain is recommended for nighttime use, though Kosher Kush also has a giggly, talkative side as well. Recreational consumers who love winding down with a movie and some nice herb after a long day may find a new best friend in this crystal-coated flower.
MK Ultra
Named after a mind-control program operated by the United States Central Intelligence Agency (CIA), MK Ultra is an uber-strong indica hybrid that promotes a dreamy, euphoric state. One of the strongest indicas in the world, the THC in this strain reaches between 18 and 23 percent. THC, however, is not the ultimate indicator of strength. Rather, there's something about MK Ultra that promotes a super heavy body numbness and a spacey, euphoric bliss. This cross between G-13 and OG Kush is a must-try for serious indica fans.
Critical Kush
Critical Kush is a Barney's Farm creation. A cross between Critical Mass and OG Kush, this woody flower boasts THC levels between 20 and 25 percent. This deeply tranquilizing strain may be soothing for those with anxiety or under chronic stress. Fast-growing and high-yielding, Critical Kush is an excellent cash strain. As a Critical Mass offspring, Critical Kush features large, resin-dense buds that release an intoxicating lemon-pine scent. Popular among patients with chronic pain, Critical Kush is a therapeutic strain that provides full-bodied nighttime relief.
God's Gift
No matter your religious beliefs, God's Gift seems like a flower from a higher power. This sedative indica can feature as much as 22 percent THC. Though this strain has been around since the 1990s, it remains an impressive specimen. Fast-acting, the happy and upbeat effects of this strain often come on first. Many enjoy the happy, bubbly mental side of this strain. However, don't let the upbeat nature of this herb fool you. God's Gift can pack some serious sedation. The area behind the eyes is likely to grow heavy, and many find that this strain leaves them stuck on the couch. Get some snacks ready and prepare yourself for a strong, yet genuinely good-spirited experience with this one.
Sunset Sherbet
Sunset Sherbet, an indica-dominant hybrid, is heir to the Girl Scout Cookies throne. Funky and pungent, this strain boasts THC levels of up to 20 percent. While this strain may not be the most potent in terms of THC, the overall experience is quite incredible. Thanks to its hybrid heritage, Sunset Sherbet is more uplifting than many strains on this list. Many find that the effects often start off in the head, providing a joyous and upbeat high. However, this strain soon mellows out into an easy, full-bodied indica experience. This strain is only gaining popularity as a go-to indica hybrid. It is much beloved by those with mood disorders and chronic pain. Sunset Sherbet is a very enjoyable, top-notch bud all around.
Try vaping these through the Mighty Vaporizer from Storz & Bickel available at the Herb Shop for a sesh like never before.
The strongest sativa strains on earth
In general, most of the incredibly strong strains on dispensary and coffee shop shelves are hybrids or indicas. However, there are a few sativa strains that consistently show up to the plate. These top 10 strongest sativa strains all can produce over 20 percent THC and are famous for providing cerebral and zippy cannabis experiences. Break out these beautiful buds when you're hoping for a strong daytime experience.
Ghost Train Haze
Ghost Train Haze has been making lists for the past couple of years. This cerebral and extremely potent sativa has tested up to nearly 28 percent THC, making it raining champion as one of the top 10 strongest strains on earth. Speedy and uplifting, this strain is like taking a shot of relaxing espresso. With such high THC levels, Ghost Train Haze is recommended for experienced consumers.
Strawberry Cough
Strawberry Cough is consistently one of the most popular sativas around. While this fruity and fragrant strain does have a reputation for causing a bit of a tickle in your throat, it's also quite potent. In fact, Strawberry Cough will likely be one of the more potent sativas available on coffee shop or dispensary menus. Expect THC levels between 24 to 26 percent in this tasty flower.
Cinex
Cinex is a strain with some variety. It's not uncommon to find Cinex samples that produce as little as 15 percent THC. However, when grown with expert care, this happy sativa-dominant hybrid can produce up to 26% of the psychoactive. Regardless, of the potency, Cinex is known for producing a very clear-headed and focused high with a comfortable body relaxation to boot. Save this strain to use during the day, or right after breakfast. A mighty strong strain like this will suit Storz & Bickel Mighty Vaporizer perfectly.
Chernobyl
Chernobyl is a three-way cross between Trainwreck, Jack the Ripper, and Trinity. Bred by TGA Genetics, this sativa-dominant hybrid has been making the rounds on dispensary shelves. While it's possible to find Chernobyl samples that test somewhere in the teens, this strain has reached a whopping 30 percent THC. The potency of this strain is a lovely surprise, as Chernobyl provides an uplifting and contented experience overall.
Durban Poison
Sometimes, the strength of a strain is about more than THC. Durban Poison is a landrace sativa strain from South Africa. Unlike many hybrids out there, this strain is a 100 percent pure sativa. Consumers can expect a strong head rush from this bud. This solid Sativa possesses a sweet smelling quality and a hit of this helps with productivity.  Don't expect to be glued to the couch! Perfect for exploring nature or working out. Some have described this as the "espresso of cannabis" due to the effect it has on leaving its smokers with high energy and a little extra pep in their step. Durban Poison measures in at 23 percent THC. What to get the most flavor out of this flower? This strain would be a great fit for the Mighty Vaporizer providing clean and pure vapor.
Amnesia Haze
Amnesia Haze is an old school sativa with some legs. While many sativa strains provide an introspective, clear-headed, and concentrated experience, Amnesia Haze truly takes after it's namesake. While this strain is lively and thought-provoking, it's also quite hazy. Featuring up to 25 percent THC, this strain will send you off into a foggy (and perhaps even a little psychedelic) bliss.
Super Silver Haze
Super Silver Haze is a quintessential sativa strain. Popularized back in the 1990s, this sativa hybrid has won the hearts of cannabis fans all over the world. While Super Silver Haze is not often the strongest strain on the shelf, this bud has some impressive trichomes for a sativa strains. When grown with expert love and care, Super Silver Haze can produce up to 24 and 25 percent THC, making it one of the strongest sativas around.
Green Crack
Rumor has it, this strain was named by Snoop Dogg himself. Get ready for a truly gleeful and energetic experience with this bud. Green Crack can feature up to 24 percent THC, and often provides a spacey, cerebral experience. Many find that laughter comes a more easily after a little Green Crack. A great daytime strain, some find that this strain helps them focus and calmly get things done.
Cinderella 99
Cinderella 99 is not the most potent strain out there in terms of THC. But, this is certainly one strong sativa-dominant hybrid. Often featuring up to 22% THC, this strain is still considered a potent bud. Cinderella 99 provides a very quick cerebral high and is nice and energizing. While some strains on this list can be extremely racy or just a little too energetic, Cinderella 99 is a strong-armed strain that provides a slightly more mellow experience by comparison.
Laughing Buddha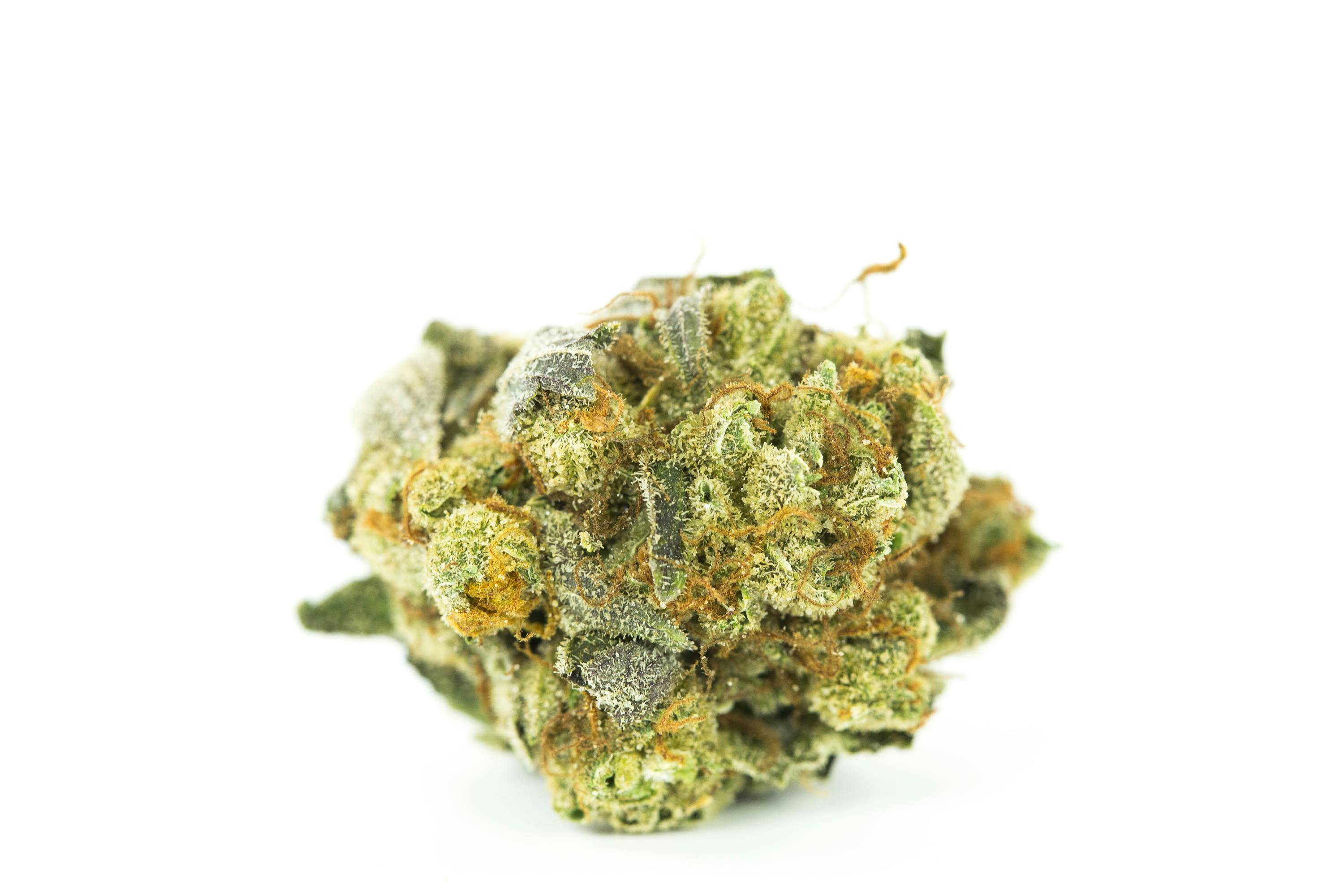 As the name might suggest, Laughing Buddha is one happy hybrid. Easy going, enjoyable, and energetic, this strain is jolly and can help you accomplish all of your daytime tasks. Similar to Cinderella 99, Laughing Buddha is not quite as potent as other strains on this list. However, this bud certainly provides a strong yet manageable sativa experience. Expect this strain to produce up to 23 percent THC with lots of care and nurturing.
Enhance any of these strains with the Mr. Black Bong from Killer Bongs – available in the Herb Shop!
The strongest marijuana products on earth
It's a challenge for the most dedicated stoners. How do you overcome a massive marijuana tolerance (short of a tolerance break, of course) and get high-school high again? It can be done. It's just a matter of dosage. Having done, shall we say, a bit of research on the topic, here are the strongest weed products on the planet.
Moon Rocks or Caviar
When it comes to which weed has the most THC, it's actually not a strain at all. Moon rocks are top shelf buds dipped in hash oil and then covered in kief. Caviar is very similar, but it's typically just top shelf herb covered in hash oil. Needless to say, both moon rocks and caviar are some of the strongest buds on the planet and will have THC levels that are literally off the charts. They'll cost a little (or a lot) extra, but you won't regret having treated yourself.
Crystalline THC-A Diamonds
They took last year's Emerald Cup competition by storm. Crystalline THC-A diamonds, "the world's strongest hash," is a crystallized extract known as the most potent dab available. At upwards of 99 percent pure THC-A (which is the pre-activated form of THC, before heating), these potent little pieces of pot concentrate are not for the faint of heart. It's helpful to think of THC-A crystals as the cannabis equivalent of Everclear. They're among the strongest weed products around.
Flowers top out at between 25 and 30 percent THC. Concentrates like butane hash oil usually fall between 70 and 90 percent. But these glittering diamonds approach 100 percent pure THC. Now, keep in mind with crystalline THC-A, you only have one cannabinoid, not the entourage effect. Also, there are no terpenes, which affect and potentiate the high. So lots of people add a bit of THC-A diamonds to shatter or wax, pumping up the high.
Slactavis Cannabis Syrup
Each 4-ounce bottle of Slactavis Cannabis Syrup contains 1,500 milligrams of THC. Medical patients use the syrup for serious pain management; it's that potent. Flavors include Watermelon, Grape, Tangerine, and Bubble Gum. Mix with your favorite drink, or have it straight from the bottle.
Bakked CO2 Distillate Oil
Bakked's supercritical CO2 extracted cannabis oils, available in Arizona, California, Colorado, Maine, Nevada, New Mexico, and Oregon, are up to 95 percent potency. That means they are among the strongest weed products and pack a mighty punch for dabbing. The CO2 extraction ensures pure and clean oil, allowing for the widest range of terpenes and cannabinoids possible. Organa Labs' Bakked distillates are strain-specific and small-batch and available in Indica, Sativa, and Hybrid.
The 4.20 Brownie
A solid gram of THC in a brownie? We'll take it! Lots of people divide this potent 1,000 milligrams brownie up into bites, making multiple doses of it. Its rich, creamy texture is good for cutting into portions without much crumbling. Kudos to California's Venice Cookie Company for packing so much potency into a brownie that still manages to be quite tasty (although you will detect a distinctly herbal flavor).
The Clear Concentrate
California-based Clear Concentrate makes a dab with the minimalist, but meaningful, name: The Clear. The concentrate is 100 percent solvent-free and comes in 16 different flavors using natural terpenes. Clear Concentrate is one of the strongest weed products, at upwards of 90 percent THC.
TWAX THC Infused Rolling Papers
You have to be a fan of the steady march of progress. Ladies and gentlemen, in modern America, we have access to THC infused rolling papers. Thanks to the genius of cannabis concentrate company The Clear, these papers will take your joints to the next level. TWAX Concentrated Papers are RAW Rolling Papers infused with 100 milligrams of 97 percent THC oil each. That's going to make a big difference in that joint's effects, don't ya know. Two papers will run you about $20.
CannaPunch Drinks
Colorado-based CannaPunch drinks, true to their name, pack a punch at 100 milligrams THC each. Take your pick of Pineapple Mango Delight, Black Cherry Fusion, Watermelon Nectar, Grand Daddy Grape, and Blue Raspberry Sour. The source of the THC in CannaPunch drinks is high-quality, whole cannabis buds.
Full Extract Cannabis Oil
A time-honored classic, Full Extract Cannabis Oil (FECO) is extracted from the entire plant using alcohol as the solvent. This creates a product of high strength and purity which contains the full entourage of cannabinoids, including THC. Medical patients have found FECO highly effective in treating pain and insomnia. It's shown lots of success fighting seizures and cancer tumors, as well. Of course, as one of the strongest weed products available, typically between 60 and 80 percent THC, it will also get you very, very high. FECO is by definition activated in the extraction process, so it's basically ready to consume. Newbies typically consume about 1/10 a gram, roughly equal to the size of a grain of rice. Those with higher tolerances take more. Doses of a gram aren't unusual for medical patients and high-dose advocates.
Punch Bars
Most legal states consider 10 milligrams of THC to be a recreational dose. While this is fine for newbies and dabblers, serious stoners require a bigger bang. Punch Bars, based in Los Angeles, contain a whopping 225 milligrams of THC. Since the bars are divided into nine pieces of 25 milligrams each, users can pick their dosage level. The chocolate is nice and creamy, but understandably at this dosage level, it does taste of cannabis.
Cheeba Chews
Cheeba Chews infused edibles, available in California, Colorado, and Nevada, offer 80 to 100 milligrams of THC per chew. The chewy treats are available in Indica, Sativa, and Hybrid varieties and typically take 45 minutes to an hour to kick in. Flavors include Chocolate Taffy, Caramel, and Strawberry Taffy. Packages of Green Hornet gummies, each containing a total of 100 milligrams THC, are also available from Cheeba.
Sunrocks vs: Moonrocks: which is the stronger strain?
MoonRocks have been all the rage over the past year. Kurupt's Moonrock stole the show, made of a high-quality Girl Scout Cookies bud dipped in hash oil and coated with kief. The resulting creations look like small meteorites that crumble into moon dust when you break them up. Now, MoonRocks have been taken to the next level with SunRocks. But, when it comes to SunRocks vs. MoonRocks, which one is stronger?
SunRocks vs. MoonRocks
SunRocks are MoonRocks' more potent cousins. At least, according to Snoop Dogg. In a recent interview with The Breakfast Club, Snoop admitted that SunRocks were too strong for him. He explains,
Once the growers started to think about the THC level was what induces the high, it would be like 15 percent THC, 20 percent at the most. These fools with the MoonRock went to 60 percent THC. Sun Rocks went to 80 percent!
Due to their excellent flavor, powerful high, and overall potency, SunRocks have developed a buzz among cannabis consumers. Now, a couple of different producers are putting out a product called SunRocks and many more are attempting to make a version of their own. The big producers include California-based Big Tray Dee and Apollo Sun Rocks. Big Tray Dee's SunRocks typically contain a top-shelf OG flower as a base, coated in a sticky layer of concentrate, and followed by a dusting of kief. SunRocks made from King Loui OG have tested with over 80 percent THC in the lab, making this infused flower extremely potent.
Apollo Sun Rocks are a little different. These buds are top shelf OG flowers infused with propane hash oil. Apollo's goal was to create a solventless wax. The oil-dipped flowers are then coated in a layer of organic kief, creating a product similar to MoonRocks. In laboratory tests, Apollo's SunRocks have tested as high as 61 percent THC. This percentage is close to Kurup's MoonRock. An ounce of these glistening SunRock buds can sell for around $550.00 and a single gram goes for $25 and up.
How to smoke SunRocks
Smoking SunRocks takes a little tenderness. These buds should not be placed in a grinder, as the device will butcher the concentrate and kief-laden buds. Instead, it's recommended to pick SunRocks apart with your fingers. You can also use scissors to gently trim up some SunRocks bud before smoking. For best results, SunRocks should be smoked in a pipe, bubbler, bong, or rolled into a blunt (check out the awesome Trailer Park Boys Bubbles bong). As Snoop Dogg suggests, a little SunRocks or MoonRocks goes a long way. So, it's best to keep it light with this stuff. He told The Breakfast Club,
If I do do it, I take it and I sprinkle into some regular weed. You can't just do it by itself, it can't just be MoonRock solo.
Though many experienced cannabis consumers these days are familiar with the rush of high THC dabs, SunRocks and MoonRocks provide a different experience. Taking a dab is similar to taking a quick shot of your favorite whiskey, while SunRock is more like a Long Island Ice Tea. Enjoying some SunRock or MoonRock is equivalent to dabbing, smoking bud, and topping it off with some powerful kief. All in all, both options make for a truly mind-bending herbal experience.